Consulting Services
We gauge our worth by the personal and business successes of our clients. We can help your business identify areas negatively affecting profitability and growth and develop solutions that are practical and technically sound. In addition to acting as a sounding board for management, we provide comprehensive, flexible strategies that address the issues affecting your business
Cash Flow & Budgeting Analysis A business can be profitable and still run into trouble due to cash flow issues. We can forecast and evaluate your company's financial condition, estimate financing requirements, and track cash-flow sources and uses.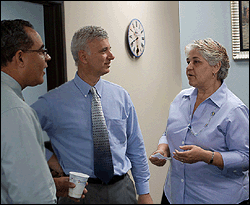 Business Entity Selection
Choosing the form of entity of your business (e.g. "S" corporation, sole proprietor, limited liability company…) is a crucial decision that can have longstanding tax implications, positive or negative. We can assist you in evaluating the pros and cons of each entity type to help you determine the most advantageous form of business for your company.


Financial Forecasts & Projections
Forecasting is a necessity when trying to effectively manage and lead a business to profitability. From simple projections to complex financial modeling, our experienced staff can assist you in achieving your company's financial goals.