Estate Planning Effective estate planning facilitates the orderly transfer of assets to your beneficiaries, provides security for your surviving spouse, and can reduce or eliminate the tax due on the transfer of your business and other assets. For business owners, providing for business continuity and succession of ownership is essential. We can guide you through the complex process of getting your financial affairs in order.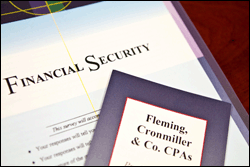 Financial Planning
A properly structured financial plan enables you to face any financial challenge that may present itself at each stage of your life. Through the financial planning process, we can help you assess your financial needs and develop strategies that will enable you to achieve your goals and strengthen your financial security.
Pension & Profit Sharing Plans
Qualified retirement plans (e.g. defined-contribution or defined benefit plans, Keoghs, SEPs…) can provide significant tax advantages for closely held businesses and self-employed individuals. Our qualified staff can assist you in evaluating the type of pension plan that will best serve the retirement needs of you and your employees.
Retirement Planning
Successful implementation and periodic review of your financial plan will ensure financial independence during your working years and through your retirement years.